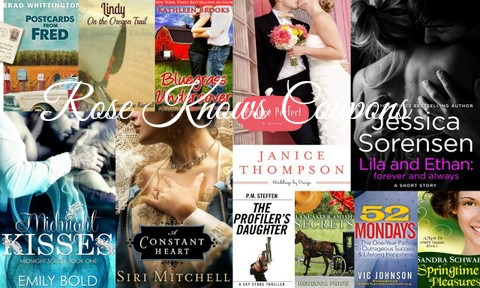 Every day Amazon offers a selection of Romance, Science Fiction, Fantasy and Teen titles at a discounted price. Kindle Daily Deals – Each day they unveil new Kindle book deals for adults and young readers with prices usually ranging $1.99-$2.99. These are only discounted for today.

Kindle Monthly Deals – Each month they unveil a new collection of 100 Kindle books for $3.99 or less. This list of free Kindle eBooks was created by Rose Knows Coupons. A big thanks to her for creating this list every weekday!
Contemporary and Romance
Bluegrass Undercover (Bluegrass Brothers)
Caroline (The Beauvisage Novels, Book 1)
Picture Perfect (Weddings by Design Book #1): A Novel
Lila and Ethan: Forever and Always
The Nightlife: Las Vegas (The Nightlife Series)
Beneath a Highland Moon (The Highland Moon Series 1)
Springtime Pleasures (A Love for every Season)
Midnight Kisses (Midnight Series)
I'll Catch You (Kimani Romance)
Constant Heart, A (Against All Expectations Collection Book #1)
Historical
Up from Slavery: an autobiography
The Gulf of Tonkin Incident: A Very Brief History
Christian, Religious & Inspirational
Lancaster Amish Secrets (The Lancaster Amish Juggler: An Amish of Lancaster County Saga series)
Postcards from Fred (The Fred Books)
Majestic and Wild: True Stories of Faith and Adventure in the Great Outdoors
ABCs of Praise and Prayer: How 15 minutes with God Can Change Your Day (Daily Devotional for Women)
Young Adult
Super Dark 1 (Super Dark Trilogy)
Mystery, Suspense & Action
The Good Girl (The Reluctant Detective Mysteries)
Who Killed My Boss? (a Sam Darling mystery)
The Profiler's Daughter (Sky Stone Thriller Series)
Paranormal, Fantasy & Science Fiction
Ep.#1 – "Aurora: CV-01" (The Frontiers Saga)
State of Union (The God Head Trilogy)
Shadows in the Mist: A Paranormal Anthology
Aunty Ida's Full-Service Mental Institution (by Invitation Only)
Self-Help
Getting Rid of It: The Step-by-step Guide for Eliminating the Clutter in Your Life
52 Mondays: The One Year Path To Outrageous Success & Lifelong Happiness
Children's
Children's book: Don't Let Rocky Get Away! (How to Parent Library Collection)
Children's books: The Carrot Eating Monster (Children's Picture Book – Bedtime stories for children)
I Even Funnier – FREE PREVIEW EDITION (The First 13 Chapters): A Middle School Story (I Funny)
Lindy On the Oregon Trail (The Oregon Series)
Children's books: Mischief Grandpa (Early readers age 4-8)
Biographies & Memoirs
Embracing Quincy, Our Journey Together
A Hacker Goes to Federal Prison
Cookbooks
The Sugar Detox Diet Challenge – Ultimate Guide to Busting your Sugar Cravings (Sugar Addiction Detox Cure: Kiss your Sugar Cravings Goodbye)
Wheat Free Recipes: The Complete Guide to Breakfast, Lunch, Dinner, and More (Every Day Recipes)
Romantic Dinner Recipes – The Ultimate Guide – Over 30 Recipes for you and yours!
Remember, a Kindle is not required to read these books! You can get a FREE Kindle app for your iPod/iPhone, PC, MAC, Blackberry, Windows Phone 7, Android, iPad, and Android tablet!

Remember, though, that you do not need a Kindle e-reader to be able to read this book. You can read it on your PC, iPhone, iPad
, Blackberry and Android. Just download for free the appropriate application to be able to do that. Amazon changes prices without notice, so make sure to check that the kindle price it is still $0.00 before you start downloading this book.
As always, thanks, Rose Knows Coupons!