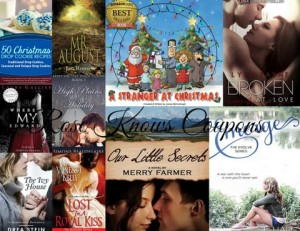 I missed them yesterday, but here they are today!  😀
Every day Amazon offers a selection of Romance, Science Fiction, Fantasy and Teen titles at a discounted price. Kindle Daily Deals – Each day they unveil new Kindle book deals for adults and young readers with prices usually ranging $1.99-$2.99. These are only discounted for today.

Kindle Monthly Deals – Each month they unveil a new collection of 100 Kindle books for $3.99 or less. This list of free Kindle eBooks was created by Rose Knows Coupons. A big thanks to her for creating this list every weekday!
Contemporary and Romance
The Ivy House (A Queensbay Novel)
Red Leopard (The Vistaria Affair Series)
Broken At Love (Whitman University)
Only If You Dare (Dearly Beloved)
Lost in a Royal Kiss (Renegade Royal)
The PA's Revenge (The Mackenzies (Book 1))
MONTANA CHRISTMAS (Montana Book 3)
Forbidden Forest (The Legends of Regia)
High Plains Holiday (Love on the High Plains)
Our Little Secrets (Montana Romance)
Historical
"Boots and Saddles" or Life in Dakota with General Custer
Robert Graves: Life on the Edge
Christian, Religious & Inspirational
World of Jesus, The: Making Sense of the People and Places of Jesus' Day
Hidden Falls: Ordinary Secrets – Episode 1 (Pre-Order)
Where's My Edward?: Seeking A Twilight Romance
Anxiety Cure: How to Overcome Anxiety with Meditation and be Anxiety-Free for Life (anxiety, anxiety cure, anxiety management, anxiety meditation, anxiety relief)
Young Adult
Spicy Coffee, Sweet Love (A Contemporary Young Adult Romance)
Mystery, Suspense & Action
Blood Orchids (Lei Crime Series 1)
Speak No Evil (Shingle Beach Psychological Thriller Series)
Executive Actions (The Executive Series)
Quicksilver (The Forensic Geology Series, Prequel)
Paranormal, Fantasy & Science Fiction
Rosetta (Jim Meade: Martian P.I)
Artificial Evil (Book 1 of The Techxorcist)
Thieves at Heart (The Valley of Ten Crescents #1)
Song to Wake to (Paranormal Romance) (Levels # 1)
Children's
The Nightingale who Lost and Found His Song
A Stranger At Christmas (Fully Illustrated) (Porterlance Series)
Vegetables for Kids: Fun Learning About Veggies and Their Benefits
Santa Ate My Gingerbread House
Biographies & Memoirs
I'm No Angel: From Victoria's Secret Model to Role Model
One Day The Invitations Will Stop Arriving: A Travel Memoir
Cookbooks
Dip Recipes: Fast, Fun and Easy Gourmet Dips for All Occasions (The Easy Recipe)
27 Healthy Muffin Recipes:Homemade Recipes With Nutritional Information
Mom's Punch Bowl Cake (Recipes Illustrated)
51 Christmas Drop Cookie Recipes – Traditional Drop Cookies, Seasonal and Unique Drop Cookies (The Ultimate Christmas Recipes and Recipes For Christmas Collection)

Remember, though, that you do not need a Kindle e-reader to be able to read this book. You can read it on your PC, iPhone, iPad
, Blackberry and Android. Just download for free the appropriate application to be able to do that. Amazon changes prices without notice, so make sure to check that the kindle price it is still $0.00 before you start downloading this book.
As always, thanks, Rose Knows Coupons!