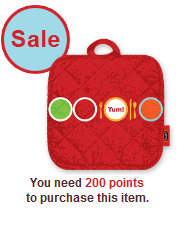 If you buy Stouffers products you may want to check out Stouffers dinner club.  Here you can accumulate points from codes available on their products and redeem for prizes on the rewards catalog.  Right now you can get a free potholder just by joining the club and taking a survey.  This is how to get this potholder:
::: Join Stouffers Dinner Club and you will earn 100 points just for doing so.
::: Then visit the "Earn Points" tab and take the Dinner Survey.
::: Click on "Rewards" and redeem your just earned 200 points for the potholder.  Allow 10-12 weeks for delivery.
In 2008 I joined this club and got a tote bag for doing that (Gosh, I can't believe I have been doing this for a while).  The potholder is a great reward too.  Don't forget about these high value Stouffers coupons available.
Thanks Rose Knows Coupons!