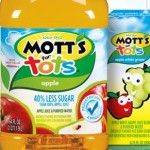 Get a free treats from Mott's for Tots and Vocalpoint (looks like it may just be coupons).  Limited to 40,000 Vocalpoint members. Just log in and enter your zipcode to see if ou are eligible for this free sample.
If you are not a member of Vocalpoint, sign up for it now and then click on the link above to sign up for your free sample.  The site is getting very much hammered, so be patient.
Thanks, Freebies 4 Mom!