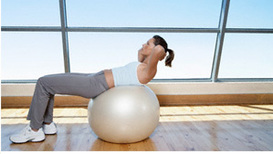 UPDATE: This offer is over now.
Get a free stability ball when you sign up for www.fitstudio.com! Just enter the promo code "ball" when you register!  FitStudio is part of the Sears Brand.  The site is running very slow so be patient.  This will be a coupon sent to you via email and redeemeable at Sears Stores.
The stability ball really is great for building your core.  It helps those with back problems and also can give challenging workouts to those who like to push themselves.  I highly recommend this exercise move.  It is so hard but it will have you with a six pack so quickly!
Thanks Mojo Savings!