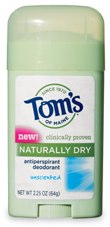 Use the "Good First" Facebook app and at the end you will be able to sign up for a free sample of Tom's of Maine Deodorant.  Here is a play by play of what you need to do to get this freebie:
Click the link above.
Wait for the page to fully load then click "Start Now."
Approve of the the app.
Click one of the five passions that load.
Now share this passion with your friends.
Finally click the "Get a Free Sample Now" button near the bottom.
I just did this, so I know they still have some.  It was actually not that cumbersome.
Thanks Hey it's free!