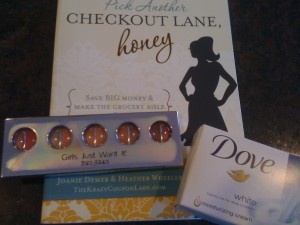 Woot!  check out what was inside my mailbox today.  It was a great day!
First, I got my free bar of Dove soap that was available through Twitter last week.  I can't believe it came so fast.
I also got my free TGI Lip Palette.  Remember this one?  The website was crawling and honestly I didn't think my order had gone through.  But I guess it did because it came today.  
Finally, the awesome gals over at The Krazy Coupon Lady generously sent me a copy of their book "Pick Another Checkout Lane Honey."  I can't wait to check it out!  Thanks Joanie and Heather!
Last Friday I got a bunch of P&G Brandsampler samples.  And I also got the free sample of Lubriderm cream.  This one was actually a full size 3oz tube.  Very nice!
What have you gotten in your mailbox lately? So many freebies available, I hope you are being spoiled by all of them.