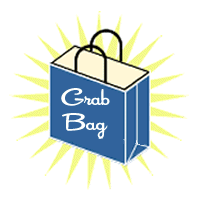 Here's a compilation of lots of free samples, magazines and other freebies available right now. Thanks to Kaley from Cha Ching on a Shoestring for her help in rounding up all of these freebies for you:
Free Samples:
Free Aleve and Axe Phoenix Deodorant Samples (Sam's Club Members Only)
Free Sample of Eau Delle Fragrance
Free Sample of Vaseline Intensive Rescue Lotion
Free Emergen-C Vitamin Drink Mix Sample
Free Sample Package of Oxy Clinical Skincare
Free 3-Issue Subscription to Redbook Magazine
Free Food
Free Pack of Extra Dessert Delights Gum
Buy One Get One Free Healthy Choice Coupon
Baskin Robbins: Free Scoop of Ice Cream! (Facebook Offer)
Outback: Free Alice Spring Quesadilla with Purchase
Free after Coupon/Rebate
Walmart: Free Nasogel Spray After Mail in Rebate
$1/1 Post Its Coupon = Free at Walmart
$1/1 Idahoan Potatoes Coupon = Free at Most Stores
Hot $1/1 Simply Orange Coupon = Free or Cheap at Target!
Miscellaneous
Free Beaker of Worst Case Scenario Gross Slime!
Free Travel Mug at Au Bon Pain
Rack Room Shoes: Free $5 Gift Card
Free Photo Cards at Walmart (Two of them!)
Still Available: Free Tub of Cottonelle Wipes
Still Available: FREE Kleenex Brand Share Package
Free 5 Lb Bag of Natura Pet Food
Pampers Gifts To Grow Codes Worth 50 Points
Snapfish: 20 Free 4×8 Photo Cards ($14.99 value)
Happy Friday!