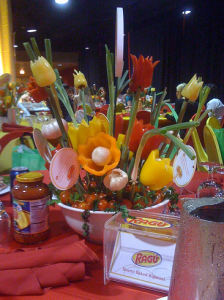 I have mentioned before that one of the best parts about attending Blogher was getting to meet other bloggers.  But what was even better was having the opportunity to chat while lunching with them.  What's better than chatting and eating, how about eating free food? and free yummy food.  Yes, Ragu sponsored a blogger luncheon the first day of the Blogher conference.  This photo on the left is of the centerpieces that were created for this event.  Can you believe the flowers made of vegetables?  Not only were the centerpieces made out of vegetables but also the 7-foot tall jar of Ragu that was displayed at the entrance of the luncheon hall.
Ragu wanted to show case the importance of eating vegetables.  Did you know that Ragu provides a full serving of vegetables in every half cup of sauce?!  What an easy way to feed veggies to our children without it turning into a battle of the wills.  Now Ragu has made it even easier for moms to feed vegetables to their children in so many different ways.  They have put together a great collection of recipes using Ragu pasta sauce.  You can search recipes based on ingredients you have available, type of meal you are interested in cooking and type of pasta sauce you have on hand.  Look for the red clock next to the recipe to find meals that are ready in 30 minutes or less.  I love having resources such as this because let's face it, it's easy to get in a rut as far as family menus are concerned.  Being able to use the staples we regularly buy in ways other than how we regularly use them is a great way to keep our menu interesting.
If you have been reading this blog for a while you know that my favorite giveaways are food giveaways.  So when Ragu asked if I would be interested in having a giveaway I calmly answered yes (but in my head screamed heck yeah!).  So, I am thrilled to have the chance to give away one six month supply of Ragu sauce to THREE readers.  There will be three winners to this giveaway and each winner will get 12 coupons towards a free jar of Ragu pasta sauce.
What do you need to enter this giveaway?
1) Visit the Ragu website and then come back and leave me a comment sharing which recipe you would like to try.
For additional entries you can
* Share this on Twitter using the following line (just copy/paste):
Pick your favorite recipe and enter for a chance to win one of three six-month supply of Ragu Pasta Sauce  (via @commnsensemoney) https://bit.ly/9l18y
* Share this on Facebook:
Pick your favorite recipe and enter for a chance to win one of three six-month supply of Ragu Pasta Sauce from Common Sense with Money https://bit.ly/9l18y
* If you have your own blog you can also share with your readers about this giveaway. Just make sure to link back and leave a comment with the link so I can verify this.
This way you can earn up to four entries. Just make sure to leave a separate comment if you decide to share this giveaway with others. If you are reading this entry via email updates or via RSS reader please click through this entry and visit my blog to enter. Emailing me is not a valid entry for this giveaway. This giveaway is open to residents of the United States only. Please enter only if you are 18 years or older. This giveaway ends 9/6 at 9PM CST. At that time I will select the winner using Random.org and will contact that person. If after 48 hours after contact I don't hear from them I will select another winner at random. Good Luck!