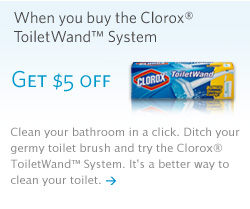 I think most of us can agree that cleaning the bathroom toilets is one of the most disliked of household chores. For me it's the chore I wish I could do least often but find myself doing most often. At our house the bathrooms get a deep cleaning every many days but the toilets always need to get cleaned in between.
The folks at Clorox sent me a Clorox toilet Wand to try. What I liked the best about the Clorox Wand was that it did a great job at quickly cleaning the toilets. The starter kit that I received came with a caddy that kept the wand at hand. The heads are disposable and require hand-free connecting and disconnecting. What I didn't like about the wand: that it is disposable. I got around this by using each head to quickly clean as many toilets as I could. I found that the head provided enough foam the first time around to clean other toilets. While foaming went down as I turned to clean a second and third toilet, all three toilets were cleaned just as well.
Save $5 on a Clorox Toilet Wand
You can find the Clorox Toilet Wand on sale at Walmart for around $10. You can try this product for half the price by using the printable coupon for $5 off one available at the Clorox website.
Giveaway and Twitter Party
The folks at Clorox have graciously sponsored the giveaway of three of these Toilet Wand Kits to three of my readers.  The kits contain 1 Wand,4 disposable cleaning heads and a bonus storage caddy.  To enter this giveaway all you need to do is just leave me a comment sharing how you make it easier on you to get the household chores done.
For even more chances to win some of this Clorox Toilet Wands consider attending the Clorox Twitter Party on Friday, October 23 from 10 to 11pm ET.  In addition to giving out Clorox Toilet Wands as door prizes, the host of the party, Melissa the Consumer Queen, will be giving away a $100 gift card for a bathroom make over.  Make sure to visit the Consumer Queen for more information on this party.
If you are reading this entry via email updates or via RSS reader please click through this entry and visit my blog to enter. Emailing me is not a valid entry for this giveaway. This giveaway is open to residents of the United States only. Please enter only if you are 18 years or older. This giveaway ends Friday 10/16  at 9PM CST. At that time I will select three winners using Random.org and will contact that person. If after 48 hours after contact I don't hear from them I will select another winner at random.
Good Luck!
Thanks to Clorox for sponsoring this conversation and giveaway.