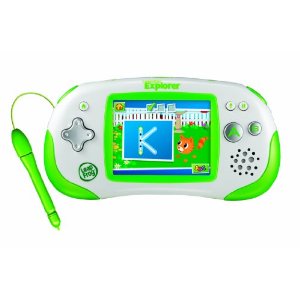 Let's start by saying that my kids are pretty much leapster kids. They have grown up with leapster baby toys, fridge magnets, leappad, leapster, anything and everything made by Leapster we have it because I have always believed in the brand.  My oldest is five and this toy has been a HUGE hit. we have leapster and he was not as interested on it as he is on this. The leapster explorer has a great handheld game feel to it. The graphics are exceptional and the games are fun. The game came with a couple of games preloaded and he has been begging me for more games but they are not available yet. however those few games available have kept him entertained for HOURS. My middle child who is almost three gets a chance to play with it and the life skill games like the sugar bugs game has been a hit and just perfect for his age.
I have found a couple of drawbacks to this game. first it's a big battery drainer. Like I said my 3 year old loves to play with it so we have gone through several rounds of batteries already. You can buy a recharger for an additional charge. the copy I received did not have that.  Perhaps the biggest drawback I found on this game was the stylus. Unfortunately the stylus is not one piece and in my case the pen has come off the top, which means lost pen VERY often. I have already contacted Leapfrog about this and they said to just contact them once the game is officially out for a replacement. In my experience Leapfrog customer service has always been responsive to any inquiries. If by any chance you experience the same don't hesitate to ask for a replacement.
In conclusion, we will be buying additional games and leaplets for this game for our sons to play with. I intend to follow up to have the stylus replaced as well. This is a great toy for kids.
Win It!
One lucky CSWM reader will win one Leapfrog Explorer.

To enter this giveaway:
Leave a comment in this post
For additional entries:
If you are reading this entry on your RSS reader or email newsletter make sure to CLICK HERE to enter this giveaway. Emailing me is not a valid way to enter this giveaway. This giveaway is open to residents of the US 18 years and older. This giveaway ends 8/8 at NOON EST.
Disclosure: This giveaway is sponsored by Leapfrog. I received a free Leapfrog Explorer and one to giveaway. All opinions expressed here are 100% mine.