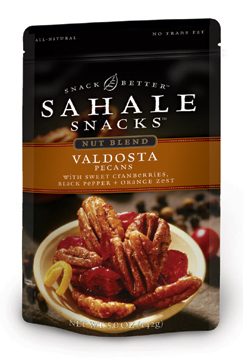 Sahale Snacks are nut blends and glazed nuts that have been roasted and paired with spices and fruits in delicious flavor combinations,  different from anything you've tasted before!
I can't rave about these nut blends enough.  Let me first say that my husband is the nut lover in our household.  However, after trying these I have confiscated them and put them out of his reach for selfish reasons :-).  These glazed nuts are delicious and I personally was impressed with the flavors and the organic ingredients they use.  The flavor combinations may sound weird and exotic to the unadventurous but they are mild enough that anyone will like them.  My personal favorite are the Valdosta: Pecans with Sweet Cranberries, Black Pepper + Orange Zest.
Sahale Snacks has kindly offered to give three of my readers the chance to try these for free.  The lucky CSWM readers will have a chance to try all eight flavor combinations that Sahale offers and also get a handy apron.

To enter this giveaway:
For additional entries::
If you are reading this entry on your RSS reader or email newsletter make sure to CLICK HERE to enter this giveaway. Emailing me is not a valid way to enter this giveaway. This giveaway is open to residents of the US 18 years and older. This giveaway ends 8/8 at NOON EST.
Disclosure: This giveaway is sponsored by Sahale Snacks. I received a free Sahale Snacks and three to giveaway. All opinions expressed here are 100% mine.