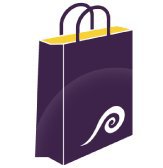 Have you heard about Jasmere yet?  Jasmere is a group buying deal site that works a little different than the rest.  First of all Jasmere brings to you offers from specialty retailers.  I have been checking out the offers for a while and I have seen them offer discounted gift certificates for jewelry makers, organic products, toys, paper products and even gourmet food.  But what makes Jasmere really different is the way it works: when the deal starts, it does so at a very good price but as more and more people take advantage of the discounted offer the price is reduced even further.  Your card won't be charged until the final price has been determined.  So if you see a deal that you think is outstanding make sure to share it with friends because not only will the price of it be reduced but you will also get one $10 referral credit for every new member you bring to Jasmere.  So make sure to pass along the word about Jasmere.
Enter This Giveaway:
Thanks to Jasmere, I am able to offer two of my readers the opportunity to add a $25 credit to their account.  You need to be a member to Jasmere to claim this prize as this credit will be added to your account.  This what you need to enter this giveaway:
Then: Leave me a comment letting me know if you just signed up for your Jasmere account or if you already had one.
For additional entries you can:
Become a Facebook fan of Jasmere.  Fans participate in daily raffles on the Jasmere Facebook Page.  Don't forget to leave a second comment letting me know you have become a liker of Jasmere on Facebook.
If you are reading this entry on your RSS reader or email newsletter make sure to CLICK HERE to enter this giveaway. Emailing me is not a valid way to enter this giveaway. This giveaway is open to residents of the US 18 years and older. This giveaway ends 8/16 at NOON EST.
Disclosure: This giveaway is sponsored by Jasmere. I received a free $20 Jasmere credit as part of my Blogher Conference participationg and got two $25 Vouchers to giveaway. All opinions expressed here are 100% mine.