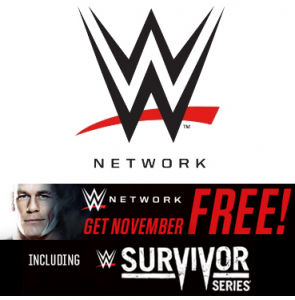 I have a little WWE fan in my house, so I might actually take advantage of this offer. Through the month of November, you can get access to the WWE Network for FREE!
It's normally – let's here it wrestling fans…
$9.99!
Here's what you'll have access to with your free November subscription:
Watch for free during the month of November!
Get Survivor Series 2014 free!
All 12 WWE live Pay-per-view events, including WrestleMania
24/7 Programming
Groundbreaking original series
Thousands of hours of on-demand video content featuring all WWE, WCW and ECW pay-per-views and classic matches, uncut and uncensored, as well as replays of your favorite episodes of RAW and Smackdown
WWE Network is available on Apple TV, Roku streaming devices, Sony PlayStation® 3, Sony PlayStation® 4, Xbox One and Xbox 360 through the WWE app on iOS devices (Apple iPad, iPhone), Amazon's Kindle Fire and Android devices, and online at WWE.com.
You can cancel your membership at anytime. If you choose not to cancel, your subscription will renew at the monthly rate of….$9.99.
Resources You Might Like:
Free Kindle eBooks (Updated every weekday!)