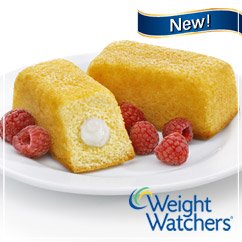 Weight Watchers gave me the opportunity to try their new product: Golden Sponge Cake with Creamy filling. Even before I tried it my first thought was: "Healthy Twinkie." It had been a long time since I had a Twinkie. OK only a few months since I had pregnancy cravings but still a long time. So I decided that if I wanted to do this right for my readers I was going to have to try both products at the same time to be able to give a fair opinion. No one can say I don't make sacrifices for my readers 😉
What do I think? I think the Golden Sponge cake is in fact a healthier version of the Twinkie. As a result is not quite as sweet and just a bit drier than its competitor. However, each is worth only 1 point if you follow the plan or 80 calories! . So it's almost guilt free indulgence.
This giveaway will have two winners and each will win a coupon for a FREE package of Weight Watchers snack cakes, muffins or soft cookies. You can see the full selection of products here.
How do you enter to win? You can earn up to three entries to this giveaway:
Fill out the form below

with your name and address
You

earn an extra entry

of you

subscribe to my feed

here or by email here. When you subscribe you will have

access to the secret message

. For a second entry, enter again your name and address and secret message in the form below. If you are a subscriber already you have earned two entries automatically. Just make sure you fill out the form twice.
You can

earn a third entry by blogging about about this giveaway

on your blog (if you have one). For this additional entry fill out the form again and copy the link to the post where you blogged about this giveaway.
Remember that you can enter up to three times but you must submit separate entries for each type. The giveaway ends on Sunday September 29th @10:00 AM. At that time I'll select the winner using Random.org . I will contact the winner via email and provide 48 hours to contact me with their address. If I don't hear back after that time period the prize will be forfeited and I will pick another winner randomly again.