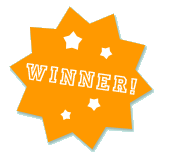 Here are the winners for the following giveaways:
Abby says, "My MIL is a teacher and a local hero. She earns peanuts and has dedicated her life to teaching young impression kiddos!"
Carmen says, "Twitter follower"
Jennifer says, "This sounds great, we are always trying to be more natural."
Tina says, "Nice giveaway. I would like to win this."
Congratulations to the lucky winners and stay tuned to Common Sense with Money for more giveaways coming up soon!
*All winners have been notified via email with instructions on how to claim their prize!