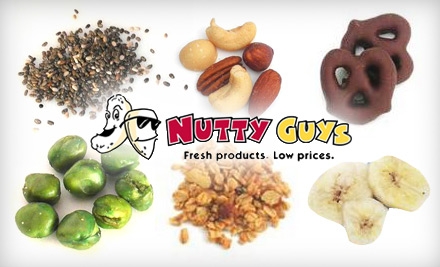 I have to confess to you that I have become addicted to Groupon.  One of the first things I do in the morning is check the daily deals for almost every city available.  I think it is the thrill of a new deal every day and what great find it may be.  But rest assured there is purpose to my madness.  The reason I look at these deals every day is because I plan on getting some holiday presents out of the way for less thanks to this website.  They offer some great values for nice items.
Here are some of the deals I spotted for today:
Akron/Canton: $10 for $25 Worth of Nuts, Dried Fruit, and More from Nutty Guys.  This is the side deal.   (online deal anyone can take advantage of it)
Chicago: $10 for $20 Worth of Stir-Fry and More at Flat Top Grill. This is a HOT deal that selling out FAST! The side deal is: $29 for a Signature Cookie Collection Mailed to Your Door from Alchemy Caterers ($58 Value). This is an online deal anyone can take advantage of.
Birmingham: $10 For a 20-Page 8″x8″ Hardcover Photo Book from Shutterfly ($30 value)
Milwaukee: $20 for a 21-Point Oil Change from Fast Track Lubrication Specialists ($35.99 Value). In following locations: Glendale, Wauwatosa, Brown Deer, West Allis, Brookfield, New Berlin, Hales Corners, Waukesha, Cedarburg, and Racine.
To find these deals just click on "See More Cities" at the top of the page and then look for the city and deal you are interested in.