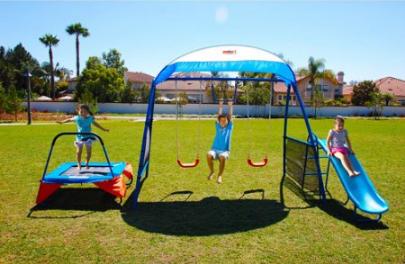 This would be PERFECT for the warm months coming up!! Head over to Walmart where you can get this IronKids Inspiration 250 Fitness Playground Metal Swing Set for only $199! (Reg. $299) Here are some additional details:
Kids benefit from frequent physical activity and exercise
You benefit from knowing the kids are secure in your own backyard
IronKids Inspiration 250 fitness playground metal swing set features 4 activities that will keep 6 kids busy at the same time
Fitness Jumper Trampoline: Develops a sense of balance and space and also can enhance full body coordination. Strengthens the legs, knees and hamstring muscle groups
Swings: Swinging burns calories and engages muscle groups, particularly hamstrings and quadriceps. It can build endurance in the knees and hips as well as works the AB muscles, shoulders, upper back and neck
Monkey Bar: Builds arm strength and helps keep off excess weight through exercise. Also the arms, shoulders and chest will strengthen using the Monkey Bar
Fitness Slide: Develops and builds kid's confidence with height and gravity
Sunshade: Adds a beautiful appearance and provides some shade when kids are on the swings or monkey bar
IronKids Inspiration 250 fitness playground metal swing set offers real value in outdoor play for the whole summer
Secured by corkscrew-shaped ground stakes, which are included
Plus, you'll also score FREE shipping with your order!! Awesome!!