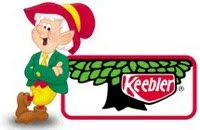 Here's another mail in offer available from Kelloggs:  Buy any five specially marked boxes of Keebler cookies and crackers and get $10 Toy Voucher back via mail.  The specially marked packages contain a token you will need to enclose with the mail in rebate form available for this offer.  This offer doesn't expire until 12/31/10.  But right now if your grocery store is having a promotion on Keebler products you can use the following printable coupons to get a good deal:
Coupons.com has a coupon for $1.50/2 Keebler cookie packages, $1/2 Rice Krispie Treats and $0.55/1 package of Keebler® Sandwich Crackers.
Snackpicks also has a other Keebler product printable coupons available such as $1/2 Fudge Shoppe cookies, $1/2 Club Snack Sticks crackers and $1/2 Club crackers.
Thanks Coupon Cravings!