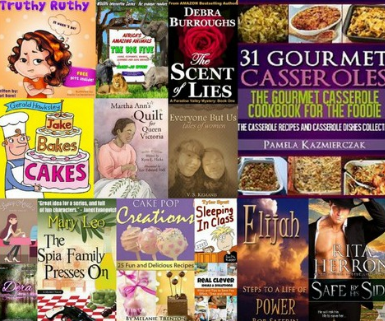 Every day Amazon offers a selection of Romance, Science Fiction, Fantasy and Teen titles at a discounted price.
Kindle Daily Deals – Each day they unveil new Kindle book deals for adults and young readers with prices usually ranging $1.99-$2.99. Here are today's selections:
Kindle Daily Deal: Four novels in the Stacy Justice mystery series by Barbra Annino$1.99 each
Science Fiction & Fantasy Daily Deal: [easyazon-link asin="B007P7HZHM"]The Dirty Streets of Heaven: Volume One of Bobby Dollar[/easyazon-link] by Tad Williams $1.99
Romance Daily Deal: [easyazon-link asin="B00BAX48N6″]Miriam's Quilt (Forever after in apple lake™)[/easyazon-link] by Jennifer Beckstrand $2.99
Children and Teen Daily Deal: [easyazon-link asin="B00CC3LWNC"]Piece of My Heart[/easyazon-link] by Lynn Maddalena Menna $1.99

Kindle Monthly Deals – Each month they unveil a new collection of 100 Kindle books for $3.99 or less.
Thanks To Rose Knows Coupons here are some FREE kindle titles available for download at the moment:
♥ Romance ♥
The Sweet and Spicy Regency Collection
The Scent of Lies: A Light Romantic Suspense (Book #1, Paradise Valley Mysteries)
The Vicarage Bench Anthology (She's Me – He's Her – We're One) Book #4 (Romance & Humor – The Vicarage Bench Series)
Intimate Strangers (Captive Hearts 2)
Love and Decay, Episode One (A Novella Series)
Contemporary
Everyone But Us, tales of women
Mrs. Lieutenant: A Women's Friendship Novel
Historical
Black Knights of the Hudson Book I: Shadow of the Flags
Empress Josephine An historical sketch of the days of Napoleon
The Princess Of Egypt Must Die
Christian, Religious & Inspirational
Elijah, Steps to a Life of Power
the OUTRAGEOUS life: Letting God Take You From Ordinary to Outrageous
Heavenly Temptation (Amish Romance)
Young Adult
Solon Parks: The Gate Episode 1 (Young Adult Paranormal Romance, Serial eBook)
The Lost Diadem (A Rogue's Tale)
Mystery, Suspense & Action
The Spia Family Presses On (#1 One Olive At A Time)
Blood and Justice (A Private Investigator series of Crime Thrillers)
Paranormal, Fantasy & Science Fiction
Sleepers (The Swarm Trilogy, #1)
Dera (Celtic Fae Legend Book One) (Lloyd Sisters Trilogy)
Blood of Requiem (Song of Dragons, Book 1)
Enigma Black (Enigma Black Trilogy #1 -New Adult Dystopian)
Home
Real Clever Ideas and Solutions: Hints and Tips to Save You Effort, Time and Money
Children's
Martha Ann's Quilt for Queen Victoria
Truthy Ruthy — #1 Best Seller in Children's Books on Values 
Africa's Amazing Animals – The Big Five – Lions, Leopards, Elephants, Rhino and Buffalo (Wildlife Interactive Series)
Jake Bakes Cakes. A Silly Rhyming Children's Picture eBook
A Dog Star in the Making: My Name is Truffles (Children's Fun, Rhyming Picture Books for Kindle, for Kids Ages 0-4)
Tyler Sput: Sleeping in Class (A funny book for kids 9-12)
Biographies & Memoirs
Dark Bread and Dancing: The Diaries of Sue Rawson
Cookbooks
Cake Pop Creations: 25 Fun & Delicious Recipes
31 "No Foo-Foo" Chicken Recipes – Delicious, Family Friendly Chicken Recipes For Everyday REAL People – Volume I (31 "No Foo-Foo" Recipes)
31 Gourmet Casseroles – The Gourmet Casserole Cookbook For The Foodie (The Casserole Recipes and Casserole Dishes Collection)
Slow Cooking, Chicken Recipes & Easy Soup Recipes – 3 Book Bundle: FARMHOUSE KITCHEN RECIPES

Remember that you do not need a Kindle e-reader to be able to read this book. You can read it on your PC, iPhone, iPad
, Blackberry and Android. Just download for free the appropriate application to be able to do that. Amazon changes prices without notice, so make sure to check that the kindle price it is still $0.00 before you start downloading this book.