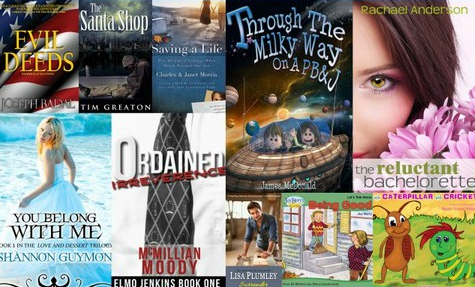 Every day Amazon offers a selection of Romance, Science Fiction, Fantasy and Teen titles at a discounted price.
Kindle Daily Deals – Each day they unveil new Kindle book deals for adults and young readers with prices usually ranging $1.99-$2.99. These are only discounted for today.

Kindle Monthly Deals – Each month they unveil a new collection of 100 Kindle books for $3.99 or less.
Thanks To Rose Knows Coupons here are some FREE kindle titles available for download at the moment:
Romance

The Reluctant Bachelorette (A Romantic Comedy)
Three Days in Seattle, a Novel of Romance and Suspense
You Belong With Me (Book 1 in The Love and Dessert Trilogy)
Contemporary
Reckless Nights in Rome (A Ludlow Hall Story)
More Than a Promise (Second Gift Series)
Historical
Hamfist Over The Trail: The Air Combat Adventures of Hamilton "Hamfist" Hancock (Hamfist Trilogy Part 1)
Letters Home: Vietnam 1968-1969
Christian, Religious & Inspirational
Getting to No: How to Break a Stubborn Habit
Ordained Irreverence (Elmo Jenkins Book One)
Gratitude: How to Feel Grateful Today and Every Day (Personal Growth)
Young Adult
Angel's Feather (The Divine Army)
The Foxhole Court (All for the Game)
The Unfinished Song – Book 1: Initiate (Young Adult Epic Fantasy Series)
Mystery, Suspense & Action
Evil Deeds (Bob Danforth Series)
The Devil's Grin (Kronberg Crimes)
From Green to Blue (The Blue Trilogy)
The Santa Shop (The Samaritans Conspiracy – book 1)
Paranormal, Fantasy & Science Fiction
The Chronicles of Dragon: The Hero, The Sword and The Dragons
Rippler (The Ripple Trilogy-1)
Children's
A French Star in New York (The French Girl Series #2)
Let's Talk About Being Good (Let's Talk About)
Through the Milky Way on a PB&J
Little Caterpillar And Cricket (Noisy Farm – A Beautifully Illustrated Children's Picture Book, Perfect Bedtime Story)
All Kinds of Dogs – A fun rhyming book for kids who love dogs
Biographies & Memoirs
Broken Shards: An American Tale…
The Queen's Escape, memoirs of a Lightworker (Book 1 of The Queen's Trilogy)
Not Like My Mother:Becoming a sane parent after growing up in a CRAZY family by Irene Tomkinson, MSW
In The Field Vietnam and My Letters Home
Cookbooks
Not Just Tacos – A Journey Into the World of Authentic Latin American Cuisine
Low Carb Made Easy – John Ratcliffe, Cherie Van Styn
THE GREEN JUICE RECIPE BOOK. DETOX YOUR BODY, THEN JUICE YOUR WAY TO VITALITY, HEALTH, AND FAST WEIGHT LOSS…
23 Zucchini: Fast, fun, easy recipes from The Perfect Pantry®


Remember that you do not need a Kindle e-reader to be able to read this book. You can read it on your PC, iPhone, iPad
, Blackberry and Android. Just download for free the appropriate application to be able to do that. Amazon changes prices without notice, so make sure to check that the kindle price it is still $0.00 before you start downloading this book.