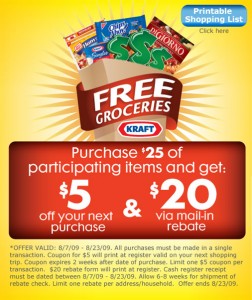 Starting on Aug 7th and through Aug 23rd, Super Valu grocery stores (Acme, Albertsons, Biggs, Cubs, Farm Fresh, Hornbachers, Jewel Osco, Shaws, Shop-N-Save and Shoppers) will have a catalina and rebate promotion going on.  When you buy $25 in selected Kraft products in one transaction, you will get a coupon for $5 off your next order AND a rebate form to get $20 back will print at check out.  Spend $25 and get $25 via OYNO coupon and rebate sounds like FREE FOOD to me!  More details about this promo here.
So, how do you make this an even better deal?  Easy, be in the lookout at your grocery stores for coupon booklets for $55 in Savings in Nabisco products.  If you signed up for this booklet you will hopefully get it in time for this promotion.  As the time for the deal gets closer I will make sure to get printable coupons for the selected products available to you.  This will be a great promotion I can sense.  It is limited to one per address or household.
I don't like giving heads up on deals because sometimes they can be confusing BUT this one is a really great deal that needs attention and preparation.
Thanks Coupon Geek!