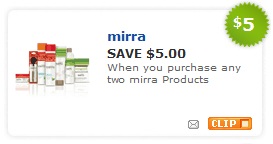 The Kroger website is offering a coupon for $5 off two Mirra products.  This is the in-house brand beauty items.  They start at $2.99 each.  So use this coupon to get items for as cheap as $0.49 each.  Thanks eendevors!
I also got this tip from Emily:
There was a coupon that came out last month (5/23 SS insert) for Golden Flake chips $0.55 cents off any bag.  Mazietos are 1.79 at Kroger and the $0.55 coupon doubles to 1.20 making the bags .59 cents each. On the back of the Mazietos bag near the proof of purchase there is an offer stating that if you purchase 10 bags of Mazietos tortilla chips and send 10 proofs of purchase Golden Flake will send you a coupon for a free bag.