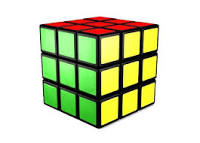 Kids these days can zip through an iPod menu, text in record flying finger time, and program not only your VCR, but also your cell phone, TV, computer, and probably NASA satellites.
Throw a Rubik's Cube in front of them, though, and you'll most likely be met with a blank expression. Either that or a look of horror. I say we work on bringing the Rubik's Cube back! We can start with this $1.50/1 Rubik's Cube 3×3 coupon! Make sure you look for SKU#A9312 when you're shopping.
Side Note: If you've ever seen a person solve a Rubik's Cube in under a minute, let me tell you that it's an awe-inspiring experience! During my bartending days, I had the unique pleasure of getting to know David Allen, the 1982 US Rubik's Cube Nationals Champion. I've seen him solve a Rubik's cube in lightning speeds, usually around 20 seconds. CRAZY, I tell ya!
Remember, you can usually get two prints from each coupon. To get a second print, just come back to this page and click on the coupons you want again. It'll save you some time and frustration searching, and each one will open in a new tab. 
Resources You Might Like:
Coupons.com