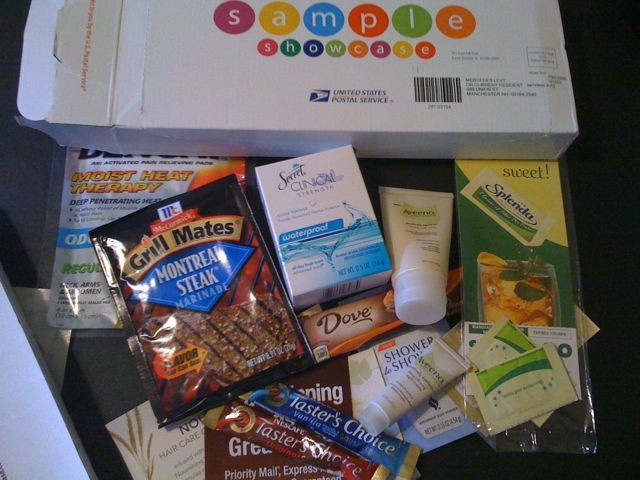 Some of you shared with me yesterday on the CSWM Facebook page that you got your sample box from the Sample Showcase program via the US Postal Service,  Well, I got mine today too!  It sure was packed chock full of goodies wasn't it?  My bar of Dove Chocolate was melted too but I followed your advice and stuck it in the freezer and voila!  ready to eat!  Thanks to Stephanie for emailing me the list of the contents of this freebie:
A full size (1.16 oz) Dove Peanut Butter candy bar.
An original Tasters Choice stick pack
A Vanilla Tasters Choice stick pack.
A .16 oz sample of Shower to Shower sport
A .16 oz sample of Shower to Shower shimmer effects
A full size (.71oz) McCormick Grill Mates Montreal Steak Marinade
A .5 oz sample of Secret Clinical Strength
A .3 oz sample of Aveeno Active Naturals Nourish+Moisturize shampoo and conditioner
A .3 oz Aveeno positively ageless lifting and firming night cream
A .15 oz Aveeno positively ageless firming body lotion
A Bengay moist heat therapy patch (4in x 5in)
2 packets of splenda with fiber
Coupons for $1.00 off any one Splenda sweetener with fiber, $2.00 off any Aveeno active naturals product (excludes cleansing bars and trial sizes) and $1.00 off any Aveeno Nourish+ hair car collection (excludes trial size)
I believe this is at the top of the list of the best freebies I have gotten.  I know a lot of you were pleasantly surprised as well.  Make sure to give feedback on these products at mysampleshowcase.com to keep the program going.  If you are not signed up yet, sign up for the mailing list to get updates about future programs.