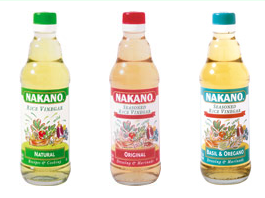 Nakano makes Seasoned Rice Vinegars that are naturally brewed, fat and gluten free. But I bet you are sitting there reading this wondering how you could use Nakano Rice Vinegars on your everyday cooking? I know! The idea of how to use Rice Vinegar can stump anyone. But trust me when I say that Nakano Rice Vinegar can come to your rescue in a big way.
Here is my tip for simplifying dinner time around here. I love cooking but with three little ones pulling my shirt the amount of time I can stand in front of the stove is very limited. So, what I usually do is marinate meat and stick it in the freezer to use throughout the month. That is what I like to call my version of once a month cooking.
So this is what I do: I take two large boneless chicken breasts (that's what would feed my family on a given night) and put them in a resealable storage bag. Then add to that about 1 cup of marinade. Then I close the bag and put it in the freezer. On any given morning, I just take out one of those bags and put in the fridge to thaw. In the evening we grill these (or broil in the oven or cook top), serve with some rice and a steamed broccoli that even Tali loves. Voila! dinner in a snap. Plus the variations are endless because you can use the grilled chicken to make salads, wraps, etc. Not only that but you can create tons of marinades to provide a variety of flavors. Here are some of the marinades Nakano can help you create:
All of these with stuff you already have in your pantry.  Sick of eating the same flavors over and over?  Try a new marinade!
Win It!
Three of you will have a chance to give these ideas a try for FREE!  Nakano has offered to give three prize packs for CSwM readers.  The winners will each get one bottle of Nakano Seasoned Rice Vinegar, Nakano Recipe/Coupon Booklet and a $25 Visa GC to go shopping for the rest of the meal.
To enter this giveaway:
Visit the NAKANO website then come back and tell us what your favorite Splash tip is.
This giveaway ends on 10/3 at 9PM EST. This giveaway is open to U.S residents 18 years and older.  Emailing me is not a valid way to enter this giveaway.  If you are reading this in email or RSS reader please click here to enter.
This giveaway is sponsored by Nakano.