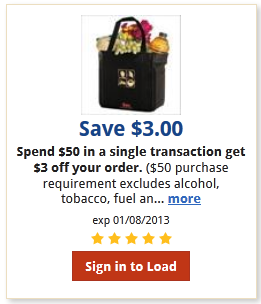 Heads up all you Kroger shoppers!  Kroger just released a new digital coupon for $3 off your $50 order! Here are the simple steps to add to your Kroger Loyalty Card:
Log in to your Kroger account
Go to digital coupons
Sort by Most Recent
Load $3 off your $50 order
The digital coupon is valid through 1/8/13 and will come off your bill automatically when you meet the purchase requirement. 
Fine print: $50 purchase requirement excludes alcohol, tobacco, fuel and gift cards
Thanks Kroger Krazy