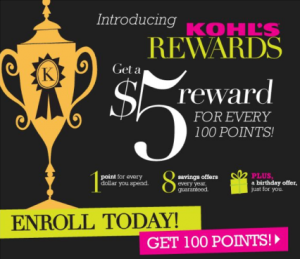 In select zip codes Kohls is rolling out a new rewards program.  When you enroll now you get 100 FREE Points which equals to a $5 Reward.  You will need to create a Kohls.com account or link your current account to this new rewards program.  Once you enroll, for every $1 you spend on qualifying purchases you will earn 1 point.  When you reach 100 points you'll receive a $5 reward to your inbox.
In addition, you'll receive 8 exclusive savings offers throughout the year plus an extra Birthday offer!
You'll receive a Kohl's Rewards card by mail or you can use the phone number you sign up with.
Check it out here!