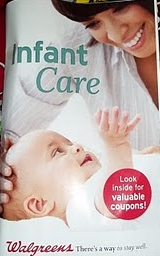 Yeehaw!  There is a new Infant Care Coupon Booklet available at Walgreens that comes FULL of some great baby coupons.  All of these coupons are Walgreens store coupons which means you can stack them with manufacturer coupons for added savings.  Here are the coupons:
$2 off any Enfamil Infant Formula Powder 22.2 oz or larger
$2 off Similac Advance or Sensitive 23.2 oz
$2 off any TWO Playtex Infant Products
$2 off any ONE Huggies Diapers Big Pack or Wipes 184 or 216 ct. (too bag only good on the big pack)
$2 off Children's or Infant's Advil Suspension 0.5 or 4 oz
$2 off any 1 Pampers Cruisers, Swaddlers, or Swaddlers Sensitive Diapers (Big packs or Jumbo Packs)  WOW!!
$2 off Triple Paste Medicated Ointment for Diaper Rash 2 oz. or larger
$2 off W Brand Diapers Jumbo Pack  (awesome coupon these go on sale buy one get one free often)
All of these coupons expire on 12/31/11. If you find the coupon booklet, you may want to grab more than one as you have many months and deals you will probably want to use them on.  if you have found this booklet already, make sure to share where in store you found.  That way others can get an idea of where to look.
Thanks Molly and Akron Savings!