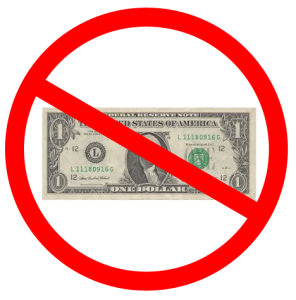 Here's a challenge for you – don't spend any money for an entire month!
I think this February, I'm going to initiate a "No Spend Month" in my household. For 28 days, we'll only spend money on absolute necessities. After the spending frenzy of the holidays, we could all use a little break from parting with our hard earned money.
But, can we do it? I'm going to go out on a limb here, and say heck yeah we can do it! Here's my plan for my no spend month…
What a No Spend Month Means to Me
It would be awful difficult to not spend any money on anything for an entire month. Although, February is the shortest month of the year, so it should be a little easier than initiating a no spend month during a 31 day month.
To me, a no spend month means that myself and my family will not spend any money – unless it's for a necessity.
So, what are our necessities?
Bills, of course, will be exempt from our no spend month. This includes housing expenses, like rent, electric, and natural gas. It does not, however, include paint or supplies for any of the many home improvement projects I have going at any given time. The Jeep payment is also a necessity, as I really don't think that "but it was a no spend month!" would be accepted as a valid excuse, nor will it get me out of paying a late fee.
Some food purchases will also be exempt from our no spend month. I'll try to stock up and plan my meals as much as I can, but I'm planning to give myself a $20 a week allowance for things like milk, bread, and fresh produce.
Finally, emergency expenses will also be exempt from my no spend month. This include medical expenses and home maintenance expenses. After all, if my pipes freeze and burst, I really don't want to wait until next month to fix them.
Tips For My No Spend Month
I have a feeling that my upcoming no spend month will be a little more difficult than I realize. I'll be preparing as well as I can with the following tips.
Set an AllowanceI've already set my allowance for my no spend month. For the entire month of February, my goal will be to only spend $100 total, not including bills. My plan is to allow for $25 a week.
Make a Meal PlanThe first order of business will be to create a detailed meal plan for every day of the month. I'll try to use what I have in my pantry and freezer as much as possible, but I may have to do a little shopping before my no spend month officially kicks off.
Stock Up on EssentialsBefore my no spend month officially kicks off, I'll need to stock up on a few household essentials. I'll need to pick up a few pantry items, for instance, and personal hygiene items as well.
Top Off the TankI'd hate to get most of the way through my no spend month and have to drop most of my allowance on fuel for the Jeep. On Friday, I'll be filling the tank.
Hide the Cards and Stash the CashI don't want to make it too easy to spend money during February. I'll find a safe place to keep my debit card and cash, so I'm not tempted to use it.
Plan for EntertainmentWe won't be able to go to a movie, out to dinner, or window shopping during our no spend month. Even just window shopping might be enough to tempt me to spend money. So, I'm planning some fun (and free!) activities for my family. We have tons of board games, for instance, that we hardly ever play anymore, as well as a few DVD's that we haven't seen yet. I'm fairly confident that we'll be able to entertain ourselves without spending a dime.
Go PublicA little accountability goes a long way, and there's nothing like a little public announcement to help make yourself accountable and stick to a goal. As you can see, I've gone public with my plans for a no spend month. I'll be completely honest about the amount of money that I actually spend and post a rundown of what I spent each week on Fridays. By putting myself out there like that, 'll be much less likely to cheat or call off my no spend month early.
Anyone who wants to is welcome to join me in my no spend month quest. You can go public, like me, or keep to yourself. If you want an accoutabilibuddy (or several) I hope you'll speak up in the comments below or on our Facebook page.
Who's with me?? What are your goals, and how will you accomplish them?