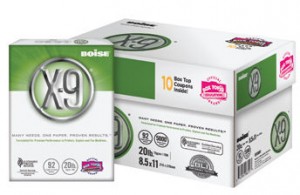 At Office Max you can get up to two cases of paper for $10 each after MaxPerks Rewards:
Boise X-9 Copy Paper 10-ream case $41.99
Earn $32 in MaxPerks Rewards
Pay $9.99 or $1.00 per ream.
Shipping is free on orders $50 or more. You can get two of the Copy Paper's and get free shipping.
Thanks to Momsbyheart.