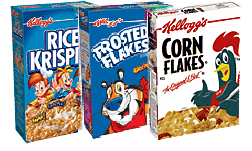 Besides all of the great Kelloggs printable coupons I shared with your earlier this week, Coupons.com just added a new batch of coupons:
Save $.75/1 Honey Smacks
Save $1.00/2 Rice Krispies
Save $.75/1 Smart Start
Save $.50/1 Raisin Bran
Save $1.00/2 Special K
Save $1.50/3 Kelloggs Cereals
Save $.75/1 All Bran
Save $1.50/2 Mini Wheats
Save $1.50/2 Corn Flakes Thanks for the Mommas!
Where can you use these coupons to get a good deal?
Albertson's has Kelloggs Corn Flakes and Raisin Bran for $1.49 each. Thanks Mojo Savings!
Jewel Osco has Kelloggs cereal 50% off
Copps/Pick N Save has it on sale buy 4/$10 get a free gallon of milk this week
Walgreens has Kelloggs cereal for $1.99 each
If you shop at Shop Rite, the store will have Kelloggs cereal on sale: Buy three and get free milk
Do you know where else we can get a deal with these coupons?  Please share in the comments section.