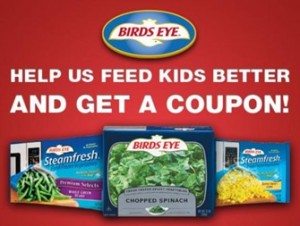 The $0.50/1 Bird's Eye Frozen Vegetables coupon has resent. I was able to print this coupon again. I used this coupon to pick up frozen veggies for 0.25/bag last week.
Other HOT coupons available now are:
$1/1 Package of Borden cheese (this is a legitimate pdf coupon offered by the manufacturer)
Use zip 62946 to see these ones:
$1.50/2 bags of Nestle Jingles, any size and flavor, Available in Nestle Crunch and Butterfinger
$2/1 Biore Skin Care Product (excludes trial sizes) Fill out the form that pops up(Ex. 01-31-11)
$2/2 boxes of Wonka Exceptionals 3.5oz or 4oz assorted varieties (Available at Kmart, Kroger and Target)
$1/1 box of Wonka Exceptionals 3.5 or 4oz in the following varieties: Assorted Chocolate, Chocolate Waterfall, Peppermint Shortbread or Scrumpdiddlyumptious(Available at Kmart, Kroger and Target)
Thanks Printable Coupons and Deals!
Can't find the coupon you want? Search my Coupon Database. Also, you will always find printable coupons available on the following websites: Coupons.com, Red Plum and Smartsource.