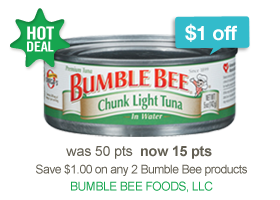 Got some Recycle Bank points in your account? Right now and through / you can get a coupon for $/ Bumble Bee products for only points. The cans of tuna go on sale for as low as cents each, so these coupon could make them free. These coupons are mailed to you.
If you are not a member of recycle bank you get 25 points for signing up. Get more points by doing the following:
Enter code TakeSmallSteps and select Marcal in the pull down window to get another 15 points
Join the eBay Green Team, you'll earn another 50 points
Thanks Bargain Briana!