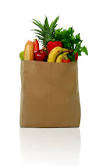 I'm a big believer in coupons. That's no secret.
But, not everyone likes using coupons, and there's nothing wrong with that at all. Some people just don't have the time to clip coupons or the patience to chase down the deals every week. Others may feel funny or embarrassed about using coupons.
Even if you don't want to deal with them, though, you can still save money on groceries without coupons. It does take a little research and time, but not as much as couponing.
Check out these tips to help you save money on groceries without coupons…
Do Some Price Checking
Shopping at the right stores is one of the most important ways to save money on groceries without coupons. As you're probably already aware, some stores have higher prices than others. A shopping trip to Whole Foods, for instance, is likely to be much more expensive than a trip to Save-A-Lot. It may take trips to few different stores to do your price checking, but it will be worth it in the long run.
Keep a Price Book
A price book is a super handy tool to have whether you use coupons or not. Your price book should have a list of items you normally buy as well as the lowest price you're willing to pay for each item. You can save money on groceries without coupons by checking your price book and only buying items when they are inexpensive.
Follow the Sales Ads
You can't get the best price on the items you buy when you pay full price for them! Another great tip to save money on groceries is to follow the sales ads for your favorite stores each week. Make your grocery lists and create meal plans based on what's on sale during that particular week.
Stock Up on Super Cheap Items
When you find a smokin' deal on items you normally buy, make sure you stock up, as long as those items won't go bad or expire before you can use them. Although it may seem like a hefty expense up front, you'll actually save money on groceries and personal care items in the long run with this method, since you won't have to buy them as often.
Buy in Bulk – But Not All the Time
Buying in bulk can be a great way to save money on groceries without coupons. Generally, larger bulk packages of items are a little cheaper than smaller packages. However, this may not always be the case. Make sure you check the unit price of the different sized packages before you decide to buy the bigger package. Also, be aware of expiration dates on bulk-size packages, otherwise you'll just waste money if you can't use it by the time it expires.
Learn to Love the Dollar Stores
Don't forget to swing by your local dollar store when you're shopping. You can often save money on groceries without coupons in these stores. Many dollar stores have a grocery section with items that are just $1, as well as a nice selection of personal care items.
Don't Be Brand Loyal
One of the best tips for those looking to save money on groceries without coupons is to let go of certain brand loyalties. Generic store brands of many items are usually less expensive than their more well known counterparts, the big name brands. During some good sales, though, the name brands may be less expensive. Choose the brand that's cheaper and save!
What are your best tips to save money on groceries without coupons?