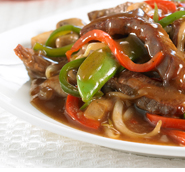 We love Chinese food in this house, but ordering from the Chinese takeout place in town every week isn't really an option. As tasty as it is, it's just too expensive to have all the time.
So, to save a little money and still indulge our tastes for Chinese food, I started to make my own Chinese a few years ago. One of our favorite Chinese dishes is stir-fry. To make this dish even more cost effective, I usually make it with homemade stir-fry sauce.
I think I first found the recipe on AllRecipes.com, but it's been adapted so many times over the years that it's only a ghost of the original. It's my go-to recipe, though, since it's much cheaper than takeout or commercial bottled stir-fry sauce. It's also pretty simple and tasty, and I always have the ingredients on hand.
The great thing about this homemade stir-fry sauce recipe is that it's extremely versatile. You can add or omit ingredients to suit your tastes. It's fun to experiment with this sauce!
To create your own concoctions, start with this basic recipe.
Basic Homemade Stir-Fry Sauce
Ingredients
4 tablespoons cornstarch
¼ cup brown sugar
1 teaspoon black pepper
2 teaspoons minced garlic
¾ cup low-sodium soy sauce
1 ½ cups low-sodium broth (beef, chicken, or vegetable)
¼ cup cider or rice vinegar

Instructions
1. Combine all ingredients in a large mason jar with a lid and shake well.
2. Stir fry your meat and vegetables and add the homemade stir-fry sauce.
3. Simmer the meat, vegetables, and stir-fry sauce while stirring constantly. Remove the stir-fry from the heat when it thickens.
This recipe makes a lot of homemade stir-fry sauce. We like a lot of sauce, so I usually cook the whole batch. However, you can keep any sauce you don't use in a sealed mason jar in the refrigerator for a couple of weeks.
We like a thicker sauce, so I make my homemade stir-fry sauce with more cornstarch than some homemade stir-fry sauce recipes. If you like a thinner sauce, you can cut down on the amount of cornstarch you use.
I also use low-sodium soy sauce and broth, since using regular soy sauce and broth seem to make a slightly saltier homemade stir-fry sauce. Substitute some of the broth with orange juice for a sweeter citrus taste, or add a little ginger or sesame. The sky's really the limit with this versatile sauce.
Use this sauce with just about any type of stir-fry you want – beef, seafood, chicken or vegetable. The type of broth you use depends mainly on the type of stir-fry you make.