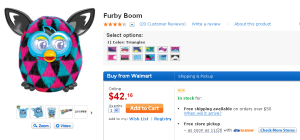 I'm on a Furby kick today. I don't know why. Well, earlier, I told you about all of the Black Friday Furby deals, but what about all of you who won't be shopping on Black Friday?
Well, Walmart.com has select Furby styles on Rollback right now for only $42.16. Not quite as awesome as the $30 Furby, but still a pretty good deal, especially if you want to avoid the Black Friday rush.
So, here's the deal…
Go to Walmart.com.
Choose your Furby color. (Diagonal Stripes, Straight Stripes, Peacock, Waves, Triangles, and Polk Dots were $42.16 when I looked.)
Get free store pickup or free shipping with a $50 order.
If you want to miss the rush but still get a good deal on a Furby this year, this may be your best bet. Hurry and grab one now while you can!