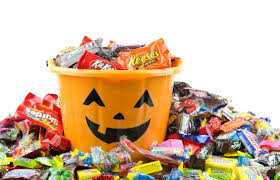 It's Halloween week – finally! This week, Americans will be buying – and eating – millions of pounds of candy. Nearly $2 billion worth of candy is sold in the days leading up to Halloween. One recent study reported that households will be spending an average of $125 on candy, costumes, decor, and other Halloween items.
Yikes!
Never fear, though! If you've already blown a good portion of your budget on some awesome costumes, your trick-or-treaters don't have to be left wanting. There are a few great ways to snag some cheap Halloween candy this week for the little monsters!
1. Use Coupons
One of the most obvious ways to snag cheap Halloween candy this year is to use coupons. Most stores already have Halloween candy on sale now, so pairing coupons with sale prices and other promotions should get you some sweet deals!
2. Shop at Drug Stores
National drug store chains are known for their inflated prices, but they're also know for their awesome sales! Once you factor in coupons and store incentives, like Register Rewards and Extrabucks, you should be able to score some dirt cheap Halloween candy at your local drug stores.
3. Hit the Dollar Stores
Dollar stores also usually have cheap Halloween candy. You might be surprised at what just $1 can get! Dollar stores are also great stores to pick up fun alternatives to Halloween candy, like party favors.
4. Skip Your Favorite Halloween Candy
Yes, the trick-or-treaters will probably love that expensive Halloween candy, but so do you! If you pick up Halloween candy that you love, there's a good chance that you'll be sneaking some before the first doorbell on Halloween night. Depending on your self-control issues, you may even need to head back to the store and pick up more Halloween candy and spend even more money.
5. Buy Halloween Candy in Bulk
Don't forget to check the bulk section at your local grocery store. You can sometimes find some pretty smokin' deals on wrapped candy in the bulk bins! If you have a membership to a warehouse club, make sure you check the candy aisles there as well. You may be able to find huge bags of candy for decent prices.
6. Wait Until the Last Minute
This is a tricky tactic. On one hand, many stores will slash the prices of their Halloween candy starting a couple days before the holiday. On the other hand, you may find empty shelves if you wait too long. However, you can usually get the best prices on Halloween candy if you wait until the week of Halloween.
Resources You Might Like: