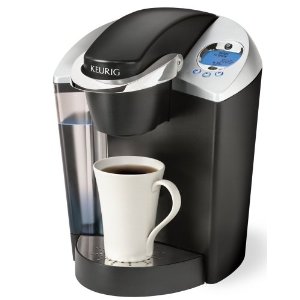 As a mom I can't tell you how many times a nice cup of coffee has perked me up in the morning AND in the afternoon.  I don't say in the evening because if I drink coffee too late then I can't sleep.  But in the evening, I soothe the craziness of the day away with a nice cup of chai tea.  I just love chai tea.
A home brewing system was the only thing at the top of my Mother's Day wish list this year.  I just needed something for ME, something that would give ME a nice indulgent treat every day.  Since I need coffee and I love tea a single cup brewing system like the Special Edition Keurig System that can deliver both was the perfect thing.  This way I can have the nice cup of coffee I need during the day AND the soothing cup of tea in the evenings all delivered by the same machine.
Now, I must admit the only thing I am not so fond off are the single K-cups.  They just seem very wasteful to me.  PLUS, I am very picky about my coffee and we like to grind our own every time right before brewing.  Not only am I very picky about my coffee but also about my chai tea.   I just had to get this reusable coffee filter so I can brew my own coffee and my own favorite tea plus reduce waste.
Win IT!
Because moms deserve their own indulgent cup of coffee, Keurig has offered to give one of my readers the chance to win one of these home brewing systems.  To enter this giveaway:
1)  Leave a comment sharing how you take your coffee everyday.
For additional entries:
1) Share this on Twitter: :  I just entered for a chance to win a  Keurig Special Edition Brewing system https://bit.ly/agSa9S via @commnsensemoney

2) Share this giveaway with friends on Facebook.  Just copy/paste this on your status bar:  "I just entered for a chance to win a  Keurig Special Edition Brewing system https://bit.ly/agSa9S" .  You may also want to  "Like" Common Sense with Money on Facebook.
Leave a separate comment for each additional entry, you know the drill. If you are reading this entry on your RSS reader or email newsletter make sure to CLICK HERE to enter this giveaway. Emailing me is not a valid way to enter this giveaway. This giveaway is open to residents of the US 18 years and older. This giveaway ends 5/2 at NOON EST.
Disclosure: This giveaway is sponsored by Keurig.  I received a free Keurig system so I could conduct a review.  All opinions expressed here are 100% mine.