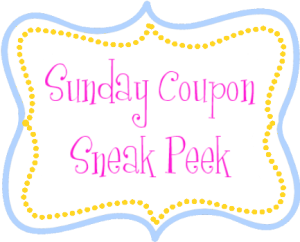 (Thanks to Sunday Coupon Preview for helping to provide this list! Remember, though, that this list also isn't set in stone, since coupons and inserts vary by region and paper. You can also print coupons from Coupons.com, Red Plum and Smartsource.)
This weekend you can expect up to four inserts in your weekend papers! We're supposed to get one Smartsource, one Red Plum, and two P&G inserts. The second P&G insert will be a thin one, but it still has some pretty valuable coupons in it!
Here are some of the highlights for next week's inserts. This isn't a full list, so don't forget to check the Sunday Coupon Preview website!
Smartsource
Red Plum
$5 in Aveeno coupons (We also just got an Aveeno body wash printable coupon!)
Three Dial soap coupons (There's also a printable Dial soap coupon available right now!)
$7 in Garnier coupons
$7 in Nivea coupons
$1/1 Rimmell product coupon (Could make for some free or cheap cosmetics!)
$2 in Sally Hansen coupons
P&G
$5 in Clairol coupons
Three Febreeze coupons
Three Gain coupons
$3 in Head & Shoulders coupons
$7 in Vidal Sassoon coupons
Six Olay coupons
Two Secret coupons
Thanks again to Sunday Coupon Preview!