I realize I have been back from my trip for a few days now, but I didn't want it to be any longer without giving you a quick recap of how my trip went. First, I want to thank Colgate-Palmotive for sponsoring my traveling and registration expenses to attend this conference.  I had the opportunity to meet Amy, Aminta and Chris who all work for Colgate.  We had a lot of fun promoting Colgate's new product the Colgate Wisp.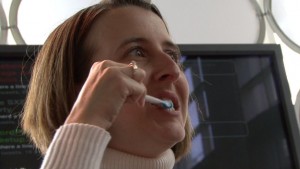 The Wisp is a mini-brush you can carry in your purse and can use at any time to clean your teeth and freshen your breath.  It already comes with a bead of toothpaste included and you don't even need to use water before or after you use it.  In this picture you can see Melissa, the Consumer Queen, using it.  The Wisps were a huge hit a SXSW.  I had a lot of people coming back for more.  I think this is something everyone should carry in their purse or pocket at any time.  It is so convenient and light to carry.  YOU will get a chance to try it for very cheap at Walgreens the week of 3/29-4/4.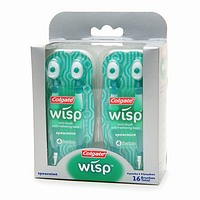 Other than the fun I had passing out Wisp samples I also had a lot of fun hanging out with the rest of the Elevenmoms.  In the picture below I am hanging out with Amy, Colleen and Audrey.  Also below you can see Melissa, Merlene, Lynnae, Monica and I.  This is such a great group of women words fall short of being able to explain their awesomeness.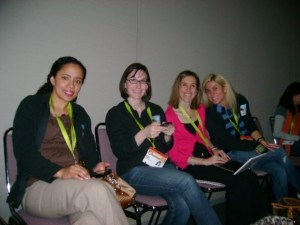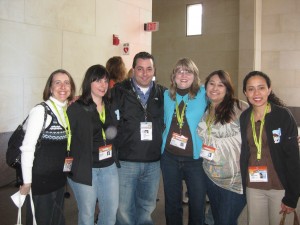 But in the back of my mind was always my husband whom I had left behind with my two boys.  Thankfully, some of the companies that sponsored the other moms helped us along by providing with food our families could enjoy while we were gone.  We received orange juice from Tropicana, breakfast items from Fast Fixin, Heat N' Serve dinners from Tyson Foods, energy bars from  Zone Perfect Bars and a baby care kit from Johnson's and Johnson's. Thank you Tropicana, Tyson, Fast Fixin, Zone Perfect and Johnson and Johnson for your thoughtfulness.
Since these companies were so generous to me, I want to pay forward their kindness by sharing some of these goodies with you: my beloved readers.  I am giving away SIX coupons for a FREE Heat N Serve Product (up to $6.99 in value) from Tyson.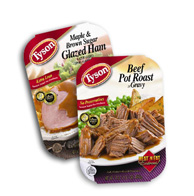 All you need to do is just leave me a comment on this post.  I will pick three winners and each will win two of the coupons.  This giveaway ends Tuesday 3/24 at 5PM.  So may sure to enter while you can.  Thank you for being the awesome readers that you are!