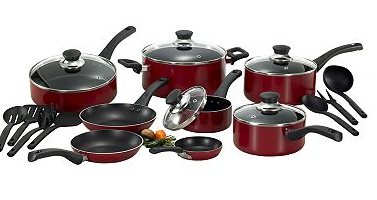 In search for a new cookware set?  Then check out this super deal available from Kohl's right now.  This T-Fal Inspirations Red 20-pc. Nonstick Aluminum Cookware Set  is on sale for $79.99.  But use the code THANKFUL to bring your total down to $67.99.  On top of that this set is currently offering a $30 mail in rebate offer for purchases made online 11/21/12 through 11/23/12 and must be postmarked within 30 days of purchase.
20-piece set includes: 7-in. frypan, 8-in. frypan, 9 1/2-in. covered saute pan, 1-qt. covered saucepan, 2-qt. covered saucepan, 3-qt. covered saucepan, 5-qt. covered dutch oven, 4 1/2-in. one egg wonder pan, slotted spoon, spoon, spatula, slotted spatula, fork, spaghetti fork & ladle
Please note the rebate form is available on the product page.  Make sure to save this file for your own use.  Shipping is free on orders of $50 or more and you will get $15 in Kohl's cash back.  That would make your net cost $22.99.