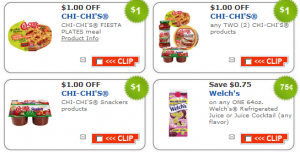 Looks like Mexican for dinner real soon!  There are a few coupons available for Chi-Chis products that should help you get a good deal on these.  Here are the coupons available:
$1/2 any Chi Chis products (flour tortillas can be found for as low as $0.99)
$1/1 Chi Chis Snackers products
I am using zip 0104 to see these but also see them on zip 60712.  Oh! and as you can see the Welch's Juice coupon that used to be $1/2 is now $0.75/1.  Even better!