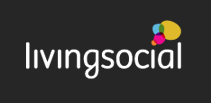 Here are the Top Daily Living Social Deals for 10/26/12. Many of these deals are national. It also does not matter what city you live in to get local deals. Please don't forget to read the fine print.
Online Deals (Look under Cobb County, GA nationwide deals)
Pay $10 for $20 to spend on custom eyewear, including sunglasses emblazoned with the officially licensed logos of more than 60 different NCAA teams, or use the Customizer to create your own unique color combination.
Picnic like a champ with this deal from PartyPicnic.com: Pay $25 for $50 to spend on items from the NFL Collection, featuring officially licensed tailgating essentials for all 32 teams in the league.
Pay $50 for $100 to spend on online purchases of gas grills — like the Turbo Elite, Cook-On, and Captain Cook.
Pay $69 (a $139 value) for a tailgating package that includes four 5-ounce, hand-carved top sirloin steaks; eight 4-ounce gourmet burgers; six each of 2.35-ounce Chicago-style all-beef hot dogs, bratwursts, and Polish sausages; and 18 ounces of barbecue pulled pork.
North Jersey: Pay $35 (regularly $61) for one 100-level baseline seat; $57 (regularly $104) for one 100-level corner seat; or $78 (regularly $147) for one 100-level center seat to see Andre Agassi, John McEnroe, Patrick Rafter, and Pete Sampras go head to head as part of the 12-city PowerShares Series tour.
Houston:  Today's deal is for an Executive car wash at Soap Hand Car Wash for $18 (a $40 value).
Cobb County:  With today's deal, pay $15 for a 90-minute cooking class for children between the ages of 3 and 18 (a $35 value).
Sacramento: Pay $199 (regularly $699) to receive laser nail fungus treatment for five toes at The Foot Doctor Laser Center.
Living Social Escapes: Escape to the Whitestone Country Inn in Kingston, TN for a romantic one-night stay in a luxury lake-view room ($194) with a dozen roses at this AAA Four Diamond B&B.
Living Social Escapes: Take a hike along the Appalachian Trail, then enjoy an included one-hour soak for two in the hot springs at Hot Springs Resort and Spa in Hot Springs, NC. Get a two-night stay for two, Sundays through Thursdays, in a Deluxe Pullman or Jacuzzi Pullman Room ($141). Other option available.