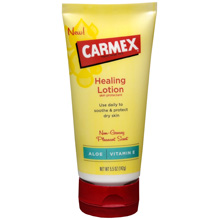 It's turning out to be a very busy week of deals at Walgreens.  Here are a couple of more to add to your shopping list.  Reader Zule emailed me to share that she found some Carmex Lip Balm on clearance for $1 and when she bought it it printed a $2 register rewards.  So if you find this clearance find you may want to give it a try.  Also:
Carmex Healing Lotion or Cream $4.99, Get a $4 RR when you buy one
Pay only 99 cents for one after register rewards  (Thanks Wild for Wags!)
This Carmex Lotion or cream register rewards offer is a monthly deal.  This offer may or may not be tagged at your store yet but it is confirmed as working for others. Just make sure you grab the right product.