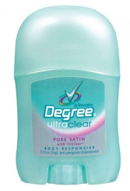 UPDATE: THIS DEAL IS NO LONGER WORKING WITH TRIAL SIZE.
It is the day for Walgreens deals that's for sure!  Here is one more deal for you then.  There is an unadvertised Register rewards offer on Degree deodorant at Walgreens.    You can use this promotion and coupons to get paid to shop for degree deodorant:
Buy four Travel Size Women's Degree Deodorant 99¢ each
Use four $0.75/1 Degree Anti-perspirant and Deodorant 7/31/2011 RP Insert (exp 8/28/2011)
Pay 96¢ plus tax out of pocket and get back one $4 register rewards
This offer is posted on the Coupon Network if you have any doubts (under Your Bucks Offers). Usually this offers don't include trial size items but in this case the trial size is working for this offer.
Thanks, Wild for Wags!