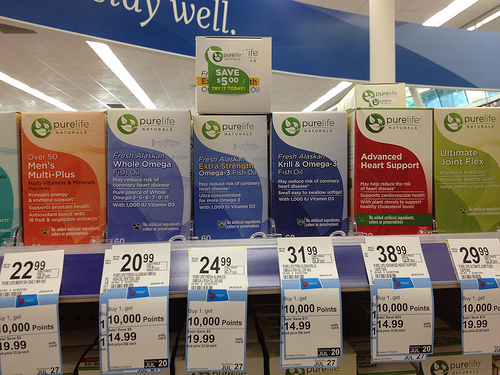 This week Walgreens is offering 10,000 Balance Rewards pints when you buy one bottle of Pure Life Naturals Vitamins.   Some lucky people are finding a coupon for $5 off stuck to the box of these vitamins.  If you are lucky to find this coupon you could get the following deal:
Pure Life Naturals Vitamins- $14.99, Get back 10,000 Balance Rewards Points (Equivalent to $10)
Use $5.00/1 Pure Life Naturals Peelie coupons found on the package or
Use $3.00/1 PureLife Naturals Product (SS 6/9)
Get it for as low as FREE after coupon and Balance Rewards!
Check out other Walgreens deals here.
Thanks Shoppers Apprentice!