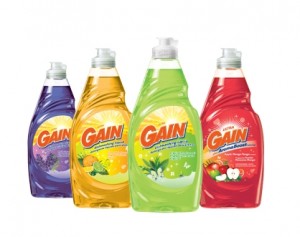 That Gain detergent deal I shared with you gets even better you guys!  check out this new deal scenario:
Buy 1 Gain Powder Detergent (30 load) $5
Buy 2 Gain Dish Liquids $1.79 each
Use one $2/1 Gain Powder detergent coupon from 9/11 SS insert
Use two $0.50/1 Gain Dish washing Liquid coupons from 8/14 RP insert
PAY $5.58 and get back two $3 Register Rewards
That's better than free! If you are interested on this deal I highly encourage you to try them as soon as possible.
Thanks Again Wild for Wags!