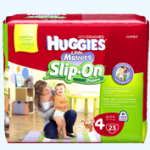 Here is your first chance to put try the new Balance Register Rewards program newly available at Walgreens.  Starting on 9/16, Walgreens will be offering 1,000 in balance rewards on Huggies diapers.  Combine this with a sale, store coupon and newly available manufacturer coupon (this is like the perfect storm guys!) to get the following deal:
Buy one Huggies Jumbo Pack Diapers $8.99
Use $2/1 Huggies Little Movers Slip-Ons 09/16/2012 SS Insert (exp 10/13/2012) or $2 off Huggies Coupon when you share with 3 friends.
PLUS use $2/1 Huggies Slip-On Diapers Walgreens September Coupon Book
Pay $3.99 per pack after coupons and balance rewards
Check out the Walgreens weekly deal preview here to get the scoop on what other deals are coming next week.
Thanks STL Mommy!