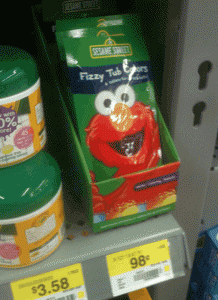 There is a new printable coupon available for $1/1 Village Company products (FF Link).  these are the makers of Mr. Bubbles or Sesame Street bath soaps.  Walmart sells the small packets of tub color drops for 97 cents each.  Snag them free with this coupon. Thanks Passion for Savings!
Here are other deals:
Purina Friskies Select Indoor Cat Food 5.5 oz 68c
Use B1G1 FREE Purina Friskies Selects Indoor 8/1/2010 RP Insert (exp 10/31/2010)
Pay 34 cents each after coupon
Reach Floss 55 yd $1.22
Use $3/3 Listerine AND Reach Products 8/1/2010 SS Insert (exp 12/31/2010) or
Use $1.50/2 Listerine or Reach Products 8/1/2010 SS Insert (exp 12/31/2010)
Pay as little as 22 cents each
Johnson & Johnson Toy Story Band Aids 20 ct $1.68
Use $3/3 Band Aid, Neosporin, Purell, Cortaid, J&J 8/1/2010 SS Insert (exp 11/30/2010)
Pay 68 cents each after coupon
Submit for FREE Story Book offer (thanks Rachelle!)
Xtra Laundry Detergen $1.98
Use $1/1 Xtra Detergent or Softener 6/6/2010 SS Insert (exp 9/8/2010)
Pay 98 cents after coupon
Thanks Couponing to Disney!